Home › Our Breweries › The History of Kinryo

The History of Kinryo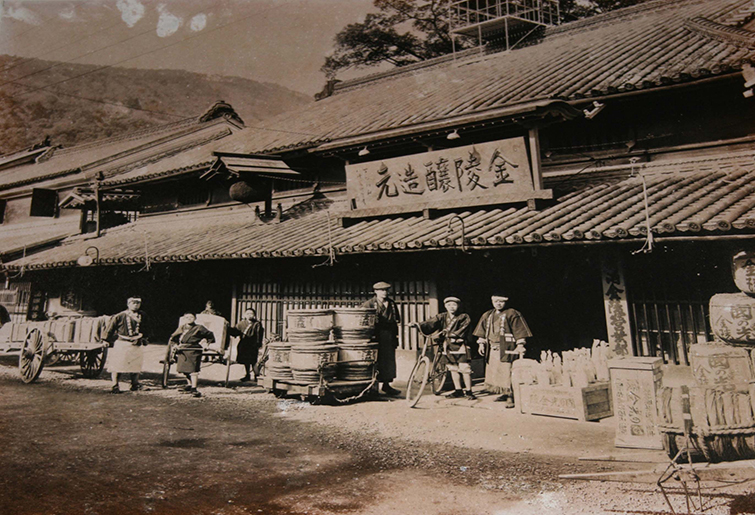 As the Konpira-sake of Sanuki, Kinryo has been loved among pilgrims for Kotohira-gu Shrine gather from all over the nation.
However, our business began originally with the handling of Awa Indigo. In 1658, The first Nishino Kaemon started handling Awa Indigo.
Awa was the largest centre for indigo production.
"Awa and indigo, indigo and Awa".
The two have been intimately associated for generations. The medieval lord Hachisuka Iemasa recognized the suitability of the Yoshino river area for producing Awa indigo and so he protected and promoted the industry, which led to its later development.
This department was passed on to successive generations of Kaemon and was developed with from its main product dye, such as importing Indian Indigo and the handling of synthetic dyes from Germany.
 On the other hand, the history of Kinryo began in our 7th Kaemon, in 1779, located in Awa Shibo then founded by 8th Kaemon in 1789, Kotohira.
 To transport our main product, Awa Indigo to the biggest consumption area, Edo(Tokyo), we depended on shipping. When Kaemon went to Kotohira-gu Shrine to pray for safety shipping, he found a sale of brewing stocks. Then he bought it and started brewing at Kotohira. Ever since, Kinryo has been the sacred sake of the Kotohira-gu Shrine.
Further on, by wholesale trading of alcoholic beverages and foods, expanding from this place 230 years has past.
 
 In 1918, On September 25, 1918, the 15th Kaemon reorganized the business as the Kinryo Nishino Store Co., Ltd.
In 1934, Kinryo Sake: Production 10,000 koku, Sales routes: Started with Shikoku and also spreading to Tokyo, Osaka, Kure, and Dalian.
 In 1948, Nishino Store Limited Company (the current Chemical Products Sales Department) and Kinryo Nishino Store Co., Ltd. merged and became "Nishino Store Co., Ltd."  In 1961, Takamatsu Head office building was completed.
To cope with the increase in sales volume,
 In 1969, The Tadotsu plant was completed, with a concentration of the best of the latest equipment. Site area: 27,607 m2, building floor area: 6,696 m2
 In 1980, Office at Tadotsu brewery was completed.
 In 1982, Changed Company name from Nishino Store Co., Ltd. to Nishino Kinryo Corp.
 In 1988, Opened Kinryo-no-Sato Sake Museum.
To come in contact with Japanese food culture through Sake and place to meet new Sake, we establish and restored this place as the same as when it was founded.
 In 2014, Refurbished Kotohira brewery as one of the smallest sake brewery.
 Based on our management principles 'To contribute to the society through food culture', here in the path of Konpirasan, we will walk our path to the future, wishing the growth of our founded place - Kotohira.